Sustainable Approach
As a premier construction specialist, Labbe-Leech Interiors recognizes the importance of our impact on the environment. We are familiar with LEED® requirements and are able to assist with the planning and implementation of your LEED® certified project.
Office / Warehouse
Our firm also supports several initiatives within our own offices, including:
Bullfrog Wind Generated power since October 2008
Lighting retro-fitted with motion sensors
Recycling not just limited to paper, but also glass, metal, tins, plastics, batteries, toners and cardboard
Office composting
Construction On-Site
Labbe-Leech Interiors can establish a customized waste management plan to clearly define the minimum practices which are to be employed. We ensure the diversion of construction and demolition waste from landfill disposal and redirect recyclable resources back into the manufacturing process.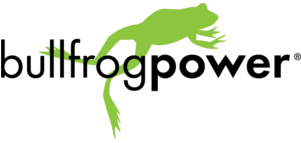 Labbe-Leech Interiors is Bullfrogpowered. Founded in 2005, Bullfrog Power is a leading provider of 100% green electricity. Bullfrog Power provides Canadians with a convenient way to support locally generated renewable power. All of Bullfrog's power comes from clean, green sources like wind power and low-impact water power. And all of our generators have received Environment Canada's Environmental Choice Program EcoLogo certification.